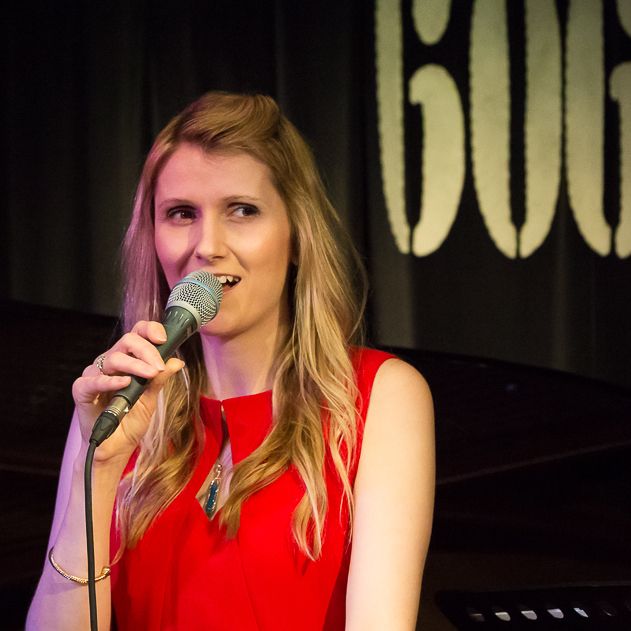 About
A familiar face on the London jazz scene, Fleur Stevenson is gifted with a honeyed tone, an offbeat sense of humour and a naturally charismatic stage presence. Fleur creates an instant rapport with her audience through sparkling narrative and an unerring instinct for choosing the right material to showcase her talent.
Her phrasing, use of space and improvisational ability nod to obvious influences from the greats such as Shirley Horn and Anita O'Day but Fleur is carving a niche all of her own with her surprising yet stylish interpretations of jazz standards and her tender, heartfelt delivery of romantic ballads.
A treat for fans of first class, straight ahead vocal jazz delivered by one of the UK's fastest rising stars.
Fleur enjoys collaborations with many of the UKs top musicians including Gareth Williams, Pete Billington, Frank Harrison and Brandon Allen to name a few. She performs at many prestigious venues across the UK, including the legendary Ronnie Scott's Jazz Club, 606 Club and Pizza Express Jazz Club, Soho.
Fleur's latest album (2022) with multi-instrumentalist Pete Billington called 'For All We Know' received much critical acclaim and is included in the prestigious Jazz Views Best Albums of the Year Award, and also featured as one of Jazz Fuel's Best 30 Jazz Releases of 2022.
After a well received EP, Fleur launched her debut album at Pizza Express Jazz Club, Soho in July 2019. The album entitled 'Follow Me' features arrangements of well known standards, as well as jazz arrangements of some lesser known vintage pop songs. Highlights include a samba arrangement of King Crimson's 'I Talk to the Wind' and a tender jazz ballad treatment of the Presley classic 'Can't Help Falling in Love'.
As well as some great audience feedback from the album launch show, Fleur's album reviewed some top reviews. Highlights include:
"There is attention to detail in every track and very clear nods to the composers, yet each number is also imbued with originality… This album is class." Something Else
"50 minutes of charming vocal jazz." Roger Farbey, All About Jazz
"This is an absolutely delightful album from Fleur Stevenson... and will appeal to all who appreciate top drawer vocal jazz." Jazz Views
''The honey-toned voice is a delight, excellent diction, feelingly sung, and the trio perform really well, with lots of space for piano solos.'' Bebop Spoken Here
Background 
Fleur was brought up on Classical and Ecclesiastical music. Interested and encouraged in music from an early age she began singing in church choirs and playing the cornet in local brass bands; later she won a music scholarship to Pangbourne College. She was also awarded a place at Wells Cathedral School to study music in 2002 where she studied classical voice and trumpet. Over these school years Fleur performed as a classical singer and chorister under the direction of many wonderful composers and conductors, including Ralph Allwood, David Fanshawe, Malcolm Archer, Nigel Perrin and Karl Jenkins. These invaluable experiences gave Fleur an excellent grounding for what later would become her vocation in jazz.
After her school years, Fleur was asked to sing with a local jazz group, filling in for the soloist at a rehearsal. Fleur was instantly hooked by the sense of freedom in jazz singing! She formed her own band; starting singing jazz at local clubs and bars, quickly gained an impressive local following.
Fleur has since gained her Associate Trinity College London (ATCL) diploma in jazz singing performance with distinction. In 2008 Fleur begun having lessons with the The First Lady of British Jazz, Claire Martin; a collaboration that is still strong today. Fleur has also received training from world renowned jazz vocalist Anita Wardell, X Factor - judges expert coach and singer Verona Chard, Paris jazz club resident Laura Littardi, and Ronnie Scotts resident Renato D'Aiello.
Fleur is now a familiar face on the London jazz scene and enjoys collaborations with many of the UK's top musicians including Gareth Williams, Pete Billington, Frank Harrison and Brandon Allen to name a few. She has performed at many venues across the UK, including the legendary Ronnie Scott's Jazz Club, 606 Club and Pizza Express Jazz Club, Soho. Fleur enjoys residencies at local venues, such as the Global Cafe (Reading), Browns and other local restaurants.
In 2013, Fleur founded Reading's "Jazz Singers' Night" at the Global Cafe. A monthly gig, which Fleur hosts accompanied by her band, and opens up the stage to budding jazz vocalists, after performing the first set. The night is still going strong today and help on the fourth Thursday of every month.